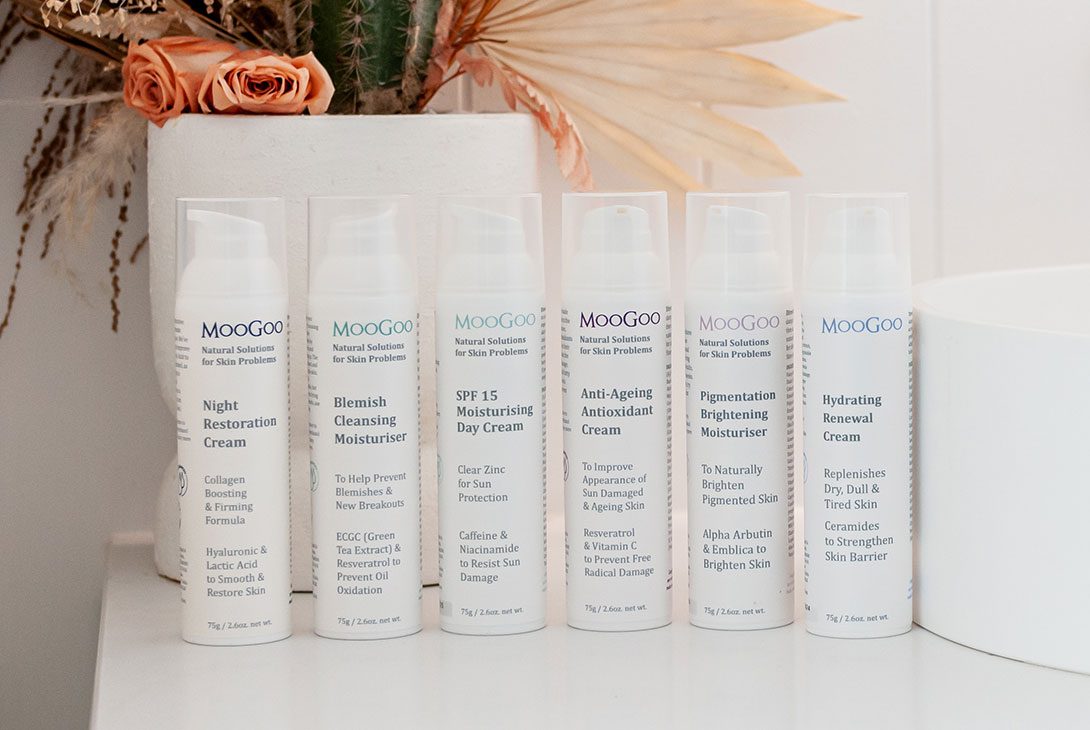 How to Choose What to Use; A Guide to MooGoo Face Creams
Choosing a new face cream can quickly become a monumental task; the options are endless! Everyone and their dog seem to have a skincare line these days, and for good reason - people willingly part with their hard-earned cash, believing the latest beauty buzz words and almost comic claims. But we digress. Where were we…? Oh, yes, the overwhelm of selecting a new face cream.
Reading skincare labels can feel like learning a new language with all the ingredient names and scientific jargon. Then mix that in with a whole lot of marketing speak to the likes of diminishing dark circles, shrinking prevalent pores and even making wrinkles disappear  (all things not possible) and you've got the recipe for some serious confusion. 
How we choose what we use:
We prefer to keep things simple, so we only use ingredients that have a specific purpose, in amounts that are effective. That means we don't throw in one drop of a fancy ingredient and pretend there's lots of it in there (aka label dressing): that's just not our style. Again, we digress.
Before we break down the differences in our face moisturisers, let's talk about what they have in common:
1. They're preserved using a gentle, edible preservative derived from Hops (like beer).
2. We say N-O to Parabens and Phenoxyethanol. You won't find any cheap paraffin and mineral oils (derived from petroleum) in here. Instead, we only use natural moisturising oils.
3. We don't use useless, fluff ingredients like stem cells from Swiss apples or superpower jellyfish DNA, just ingredients that work.
4. Since we pack in as much of the good stuff as we can, we don't have any room left for filler ingredients that have no benefit.
5. We show a full list of ingredients on the bottle and on our website, so you know exactly what you're putting on your skin.
2 more things to keep in mind
Just because something comes in fancy, futuristic packaging, doesn't make it technologically advanced, and a label full of leaves doesn't mean it's natural either. Yes, we were shocked too.
Also, a higher price tag doesn't necessarily mean the product is of higher quality – it might just mean a bigger marketing budget. Go figure.
Everyone has a skin problem
Even if you don't have a skin condition like eczema, many people have other issues like pigmentation, dryness, blemishes or ageing. So, we've made a few crafty creams to address these common concerns:
A good Anti-Ageing cream shouldn't temporarily plump out lines or tighten skin - we think that's just a bit of denial. Instead, we try to improve the signs of ageing by protecting against environmental damage and keeping skin hydrated so it resists forming fine lines. 
We use a lot of Olive Squalane because it mimics the oil naturally produced in younger skin and we only use well-researched antioxidants Resveratrol and Ascorbyl Tetraisopalmitate (oil-soluble Vitamin C), both included at the maximum concentrations.
Most creams that are made to manage breakouts contain Benzoyl Peroxide bleach. This works by drying out the oils on the face to keep pimples from forming, but it's also very harsh on the skin - not a price we're willing to pay. 
We designed this leave-on moisturiser to cleanse the skin of bacteria and keep it hydrated to help control the over-production of oil. We think this approach is much better, even if it costs us a bit more to make because healthy skin is priceless. Works with consistent use over time - no  miraculous, instant results to be preached here.
In addition to wrinkles or fine lines, uneven skin tone – dark spots and pigmentation – can make skin look older and less vibrant than we'd like. Because bleach just isn't our thing, we sourced the 3 most effective, natural lightening ingredients available and use them at their full concentrations: Alpha Arbutin, Emblica and Ascobyl Tetraisopalmitate (Vitamin C). 
As you know, good things take time and this cream is no exception. There's no such thing as an overnight success, so keep an eye out for visible results in about 6 to 8 weeks.
A rich, restorative treatment moisturiser that works while you sleep. You'll notice a unique ingredient in this formula – Lactic Acid. Sound familiar? It's what causes your muscles to burn during exercise. But what does that have to do with your face?
This naturally occurring Hydroxy Acid loosens the glue that holds dead skin cells together, helping to remove rough, flaky skin. It also stimulates collagen production, making skin stronger and more resilient. We've also included Hyaluronic Acid for some additional hydration and moisture retention.
This is our go-to, all-rounder moisturiser with sun protection for anyone that spends time outside. Sun damage leads to skin ageing, which is why it's so important to protect skin during sun exposure. 
This non-greasy formula uses Zinc and Red Raspberry Seed Oil for sun protection instead of UV filters and penetration enhancers. Because it's clear Zinc, it won't leave you looking white as a ghost after application. Using natural Zinc means the cream is a bit thicker than you may be used to, however, it spreads easily once warmed up on the skin, and sit well under makeup plus gives you longer lasting protection.
The Hydrating Renewal Cream is designed with dependable ingredients to ditch dryness, dullness and dehydration. We use healing Aloe Vera blended with 5 natural, soothing oils rich with fatty acids for hyper hydration, skin regeneration and protection from daily damage. The oils we use are selected because they're lightweight, non-comedogenic, highly absorbent and suitable for all skin types, including the most MOO-diest. We added doses of Hyaluronic Acid and Niacinamide to revive, refresh, renew and replenish skin (that's a lot of R's), and help retain (oops, one more) as much moisture as possible.
With all that going on, we still saved room for some Ceramides. Just in case you don't know what Ceramides are, here is a quick explanation: Ceramides are fats (lipids) that exist in high concentrations in the skin and help hold it together. They assist in preventing water loss and protecting the skin barrier from irritants. Over time, things like sun damage, environmental factors and natural ageing can deplete Ceramide levels in the skin. This weakens the skin barrier which causes skin to become drier more easily, and that's when the sneaky signs of ageing start showing up. Topping up Ceramide levels rebuilds skin strength which helps keep more moisture in and smooths out those finicky fine lines. Yes, please!