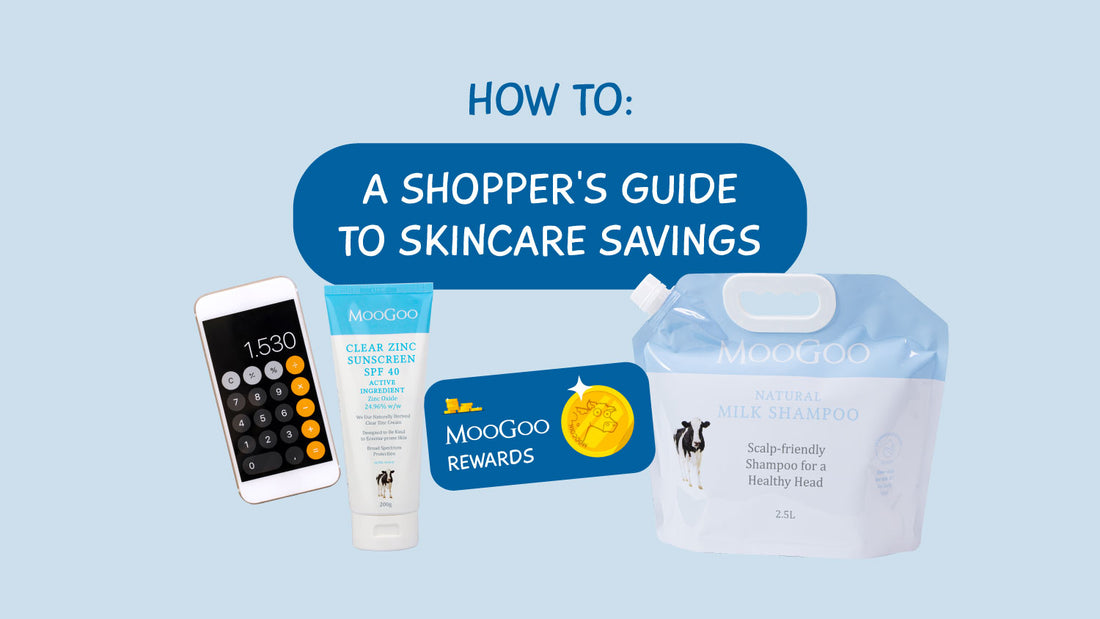 How To: A Shopper's Guide to Skincare Savings
Let's be real, shopping for skincare can feel overwhelming, with so many brands and products - let alone the price tag attached. Sure, you can splurge on all the fancy bells and whistles, but we often forget that you don't have to break the bank to achieve that happy, healthy skin glow. We're all feeling the struggle these days with inflation and the cost of living. But fear not! Here at MooGoo we've got you covered with some seriously helpful tips to save some coin on your skincare. Say goodbye to feeling guilty for splurging on expensive products and hello to radiant, budget-friendly skin with our guide to saving on skincare!
1. Know Your Skin Type
Understanding your skin type is possibly the easiest and most beneficial way to save your pennies and your skin. Because if you don't know your skin type, then how can you know what ingredients your skin really needs? You're going to save a great amount of time, money, energy, and product by determining if your skin is oily, dry, combination or problematic before heading to the cart.
Feeling confused about your complexion? We can fix that! Take our Skincare Quiz, and in just a few minutes, you'll be on your way to finding the perfect routine for your skin. No more guesswork or wasted product – just glowing skin and a happy wallet!
And if you're dealing with specific skin concerns such as Eczema & Psoriasis, Anti-Ageing or Rosacea, don't fret! Our amazing Support Team is here to chat with you and help guide you in the right direction. You can even book a free Skincare Consultation to get personalised recommendations tailored just for you. Trust us, investing in a reliable skincare routine for your skin type will save you costly trial and error.
2. Simplify Your Routine
We love jumping on a trendy bandwagon (thanks TikTok!), but when it comes to skincare, let's just say we prefer to steer clear. With so much misinformation, lack of regulation and people wanting to go 'viral' circling on social media, it's hard to know what's genuinely good for your skin. Sunscreen contouring, hair slugging, at-home micro needling, and DIY lemon and cinnamon facemasks may sound fun and alluring, but trust us when we say it's a hard no. We know it can be tempting to try these trendy hacks (we've been there too) but don't be fooled by viral claims made by unqualified individuals that only look 'cool'. That's why we suggest sticking to a simple yet effective skincare routine that'll give you great results with consistency.
If you're looking to give your skin some TLC without breaking the bank or spending an hour in front of the mirror, we've got you covered. Simplifying your routine is as easy as 1-2-3: Cleanse, Boost, Moisturise. No fuss, no frills, just three simple steps to glowing skin. Our advanced formulas are non-comedogenic, so say goodbye to those pesky breakouts and irritation! Plus, with advanced ingredients, you'll see real results that will make you say "Wow"- even on a budget!
3. Applying SPF Daily
Trust us when we say, prevention really is the best protection! Applying a broad spectrum sunscreen daily will be your skin's lifesaver, reducing the damaging effects of UVA and UVB rays. Want to keep that gorgeous, smooth skin tone, avoid premature wrinkles and fine lines, and steer clear of skin cancer? Then make sure to apply SPF daily to your face and body. Not only will you avoid those gnarly sunburns, but you'll also save yourself some major pennies, in the long run, trying to repair skin damage.
4. Buy in Bulk, Save in Bulk
If you're tired of constantly repurchasing your favourite MooGoo products, have no fear because bulk buying is here! Stocking up on your go-to products in bulk will not only save you time but also money. Plus, you'll be reducing the amount of waste generated from smaller sizes!
You can get our bestselling Milk Wash, Milk Shampoo and Cream Conditioner in Bulk Sizes and 2.5L Refillable Pouches – which save you up to $5.40 per Litre. So go ahead, and stock up on your holy grails in bulk; your wallet and the environment will be stoked!
5. Research Product Ingredients
Everyone's skin is unique and reacts differently to different ingredients. Some ingredients in common skincare products can irritate the skin further or even cause allergic reactions, while others may be more beneficial for specific skin types. Imagine spending your hard-earned money on a fancy new skincare product, only to find out that it makes your skin break out with acne or rashes or turn into an oil slick. Not only is it frustrating, but it's also a waste of your precious MOO-lah!
By researching the ingredients in your skincare products, you can save yourself from these disasters. You'll be able to make informed decisions about which products will work best for your skin type and avoid any ingredients that may irritate or harm your skin. You can invest in products that are more likely to work well with your skin, and you won't have to keep shelling out money for new products that underdeliver!
6. Cheeky Discounts
We all love a cheeky discount, so make yourself some MooCoin while you spend! All you need to do is log in or create a MooGoo account and start shopping! You'll earn $20 for every $100 you spend which is redeemable on any future purchases under the MooGoo Family. Plus, for every friend you refer to MooGoo, we'll give you another $10 in coin!